Make a Movie Camp
NOW REGISTERING FOR WINTER 2023
REGISTER NOW!
Our Make A Movie Camp focuses on Film Creation and Movie magic for grades 1+. Through our program we work to encourage greater self-confidence, role-model appropriate behaviours, encourage social and emotional maturity, and, of course, put a huge push on individuality and creativity!
Our camp is designed by both a Certified OCT teacher and our resident "Film Experts". Our camp is then implemented by trained and supported Film.ca staff with expertise in the field.
We have a minimum 1:10 ratio of adult to child allowing us to provide greater focus on your child's enjoyment during the Make A Movie Camp.
The Program
Drop off: Between 8:30 am & 9:00am
Camp starts at 9 am
Pick-up: Between 3:45 pm & 4:15 pm
Grades 1+
Cost: $330 per camper, per week
After care is available from 4pm-6pm for $10 per child, per day.
Must book after care in advance.
Kids will work on their movie's story through storytelling games and activities, including storyboards and improv. They will learn to outline and script their story. We'll learn about roles on a movie set, and camera and lighting techniques.
Throughout the week, kids will spend a lot of their time creating their movie with the help of their counselors, broken up with games, crafts and activity breaks. It is a lot of work to complete a film in just 1 week, but our Film Experts are there to guide our campers through the process.
Parents may pre-order a lunch option from the theatre (available Monday – Thursday).
Lunch option comes with pizza or hot dog, a 'veggie of the day', and a fountain drink or juice box.
Campers watch an age-appropriate movie on the big screen and receive a popcorn/drink combo on both Monday and Friday.
SAMPLE SCHEDULE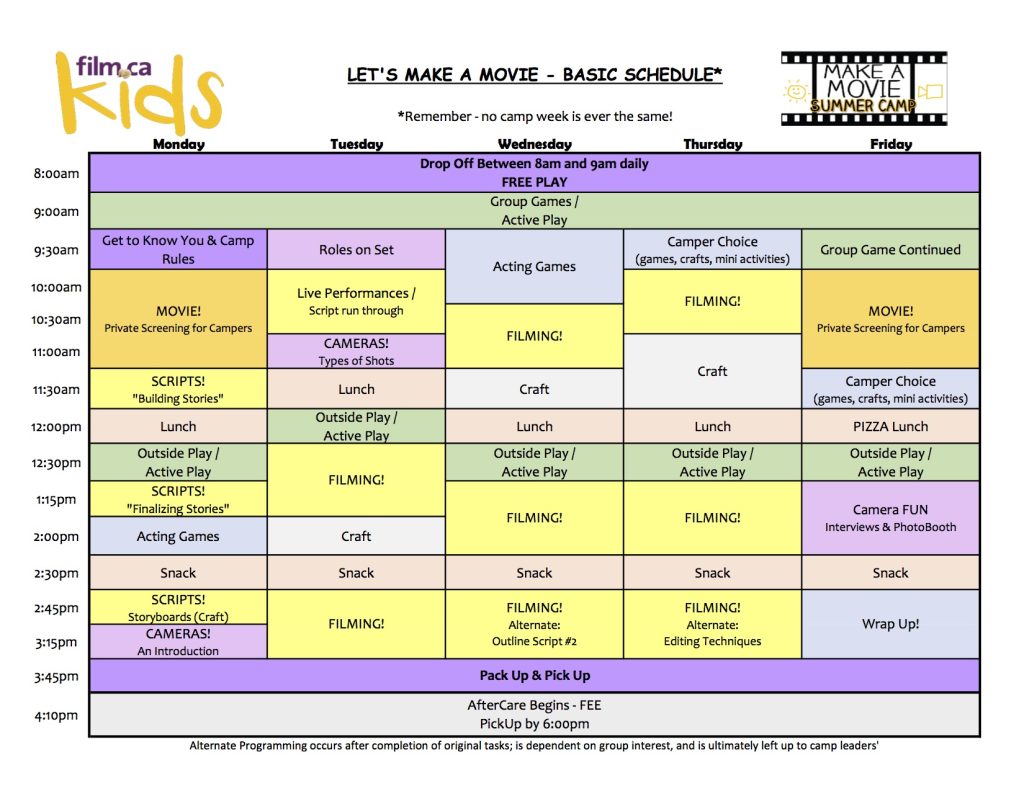 TESTIMONIALS
This was the third year we participated in this camp and we plan to keep coming back. My girls absolutely love it. It was the only camp they chose to do all summer. Josh made it extra fun and memorable for them. Such a fun and well organized crew.

– Sonia L.
I love camp! Our movie is going to be great!

– Victoria, 9
Fantastic camp as always, even with COVID. My son had a great time and couldn't wait to go back each day. Can't wait for the red carpet event! Thanks Film.Ca!

– Tabatha D.
Camp is amazing. My experience has been so fun. You should hire Anton.

– Marco, 12
Thank you so much from us parents, as well as on behalf of our son Daniel. Everyday he came home excited and told us how much he enjoyed! And he wants to join camp every year! We are sorry we didn't book more time!

– Liliana P.
CANCELLATION POLICY
Cancellations requested in writing 1 month prior to camp start date will be refunded in full.
Cancellations requested in writing after the 1 month deadline, but 7 days prior to camp start date, will be refunded less a $45 administration fee per child, per week cancelled.
No refunds are given within 7 days of start of camp.
If your child cannot attend camp for medical reasons, please contact us immediately for consideration.