Filmmaker in the Classroom
ON HOLD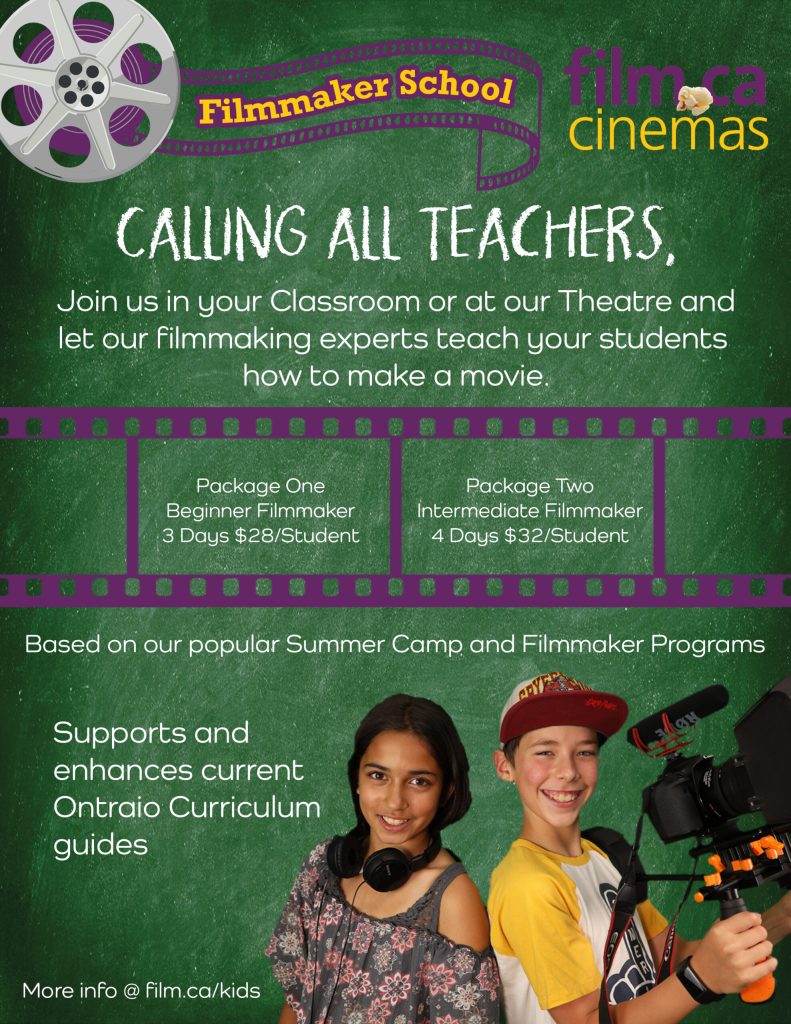 Calling all teachers, Film.Ca is offering an in depth and hands on filmmaking experience for students. Either the studio comes to you or ditch the books and come join us on our film set at Film.Ca. The multi-day program will aid students in the fundamental tools and techniques they require to be on a professional film set, while supporting and enhancing Ontario curriculum goals.
Our experienced filmmaking experts will guide students through the entire process of production; from screenwriting, directing, camera operating, lighting, and editing to create a finished short film.
This program is available for grades 4-8.
Depending on the size of the classes some may be divided into separate filmmaking groups.
PACKAGE 1: BEGINNER FILMMAKER
Day One: 2 hours in class
Covers Screenwriting, Roles on Set, and Character Development
Before our Film Experts arrive, under teacher direction, students will have been divided into groups for filmmaking and basic plot and characters will have been developed using provided worksheets and lesson plans.
Day Two & Three: 3 hours per day
(or 6 hours in a single day)
Filming Days to be scheduled 1 week after Day One.
We come to you (at school) ; or you come to us (at Film.Ca) !
Finished scripts will be sent for students to practice before Filming Days. Students will come with costume pieces as desired.
PACKAGE 2: INTERMEDIATE FILMMAKER
Days One-Three: Runs same as Beginner Filmmaker
Day Four: 2 hours in class
Students edit together their own film trailer using footage they shot
Day Four to be scheduled 1 week after filming days
BONUS OPTION:
Schedule a Movie Outing field trip at Film.Ca Cinemas!
Let us Roll out the Red Carpet for a premiere of their fully edited films
After the short films are screened, enjoy viewing a full length feature. Selected from our list of current playing.
In addition to standard Movie Outing pricing, there is a flat $50+hst fee to attend a Red Carpet event.
---
To request more information or discuss available date options, fill out the form below!