Employment
GUEST SERVICES LATE-NIGHT STAFF
We're looking for some great cast members to help us serve our guests and maintain the cinema's appearance! We are not looking for people who just need a job; we are looking for those who want to work in a magical setting where your job is part of the show!
Yes, we say "cast" because we are in the movie business. Every aspect of the guest's experience is part of the show, including our staff.  Their performance in serving the guest's needs is every bit as important as the movie or the popcorn.  
The positions available are part-time. We pay the prevailing minimum wage and provide uniforms without cost. All cast have free admission to movies with a guest when not on duty and a discount on snacks at the snack bar.
Ideal candidates love movies, can exude friendliness, are able to work in a fast pace environment and be ready to work as part of a team. To add to that, our company embraces the Disney Institute's Approach to Quality Service and the Disney company's Five Keys to a Great Guest Experience. We are recruiting stars that can live by these objectives and demonstrate them every day to our guests. Take a few minutes to use your Google and research the keywords "Disney Approach to Quality Service" and "Disney's Five Keys" (or Four Keys, as the fifth, inclusion, was only recently added).
Please email your cover letter and resume to bperras@film.ca
Due to the volume of submissions we receive, we will be able to respond only to those candidates who are selected for interviews. We thank all candidates for their interest in Film.Ca Cinemas.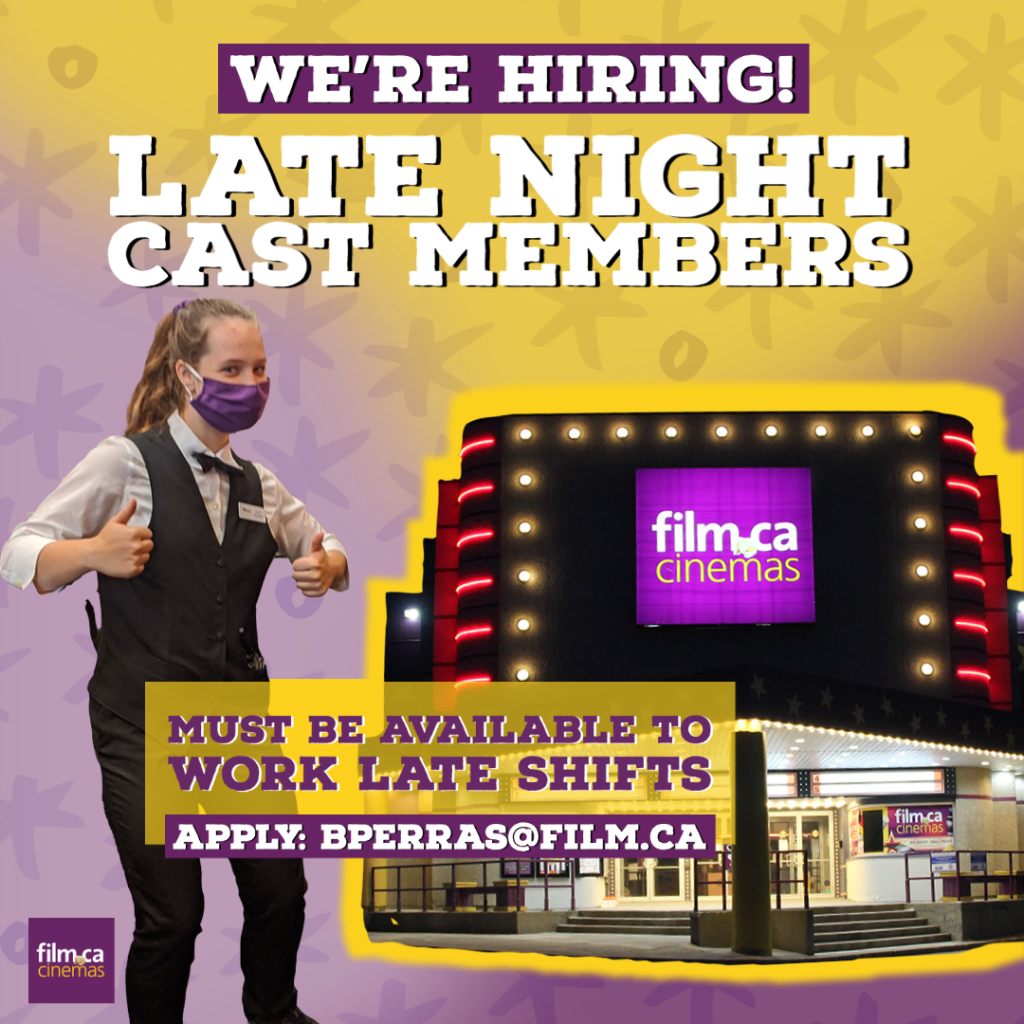 ---
Film.ca Cinemas is a 100% smoke free work environment and preference will be given to non-smokers.
Film.Ca Cinemas welcomes and encourages applications from people with disabilities. Accommodations are available on request for candidates taking part in all aspects of the selection process.
Film.Ca Cinemas is committed to the fundamental principles of equal and inclusive opportunities in employment. Film.Ca Cinemas is committed to ensuring that the recruitment and selection of all employees is fair, open, and transparent. We will comply with all relevant legislative requirements and will be free from any bias and/or discrimination. This policy applies to all aspects of employment, including recruitment, hiring, placement, promotion, compensation, and training.