Corporate Meetings & Events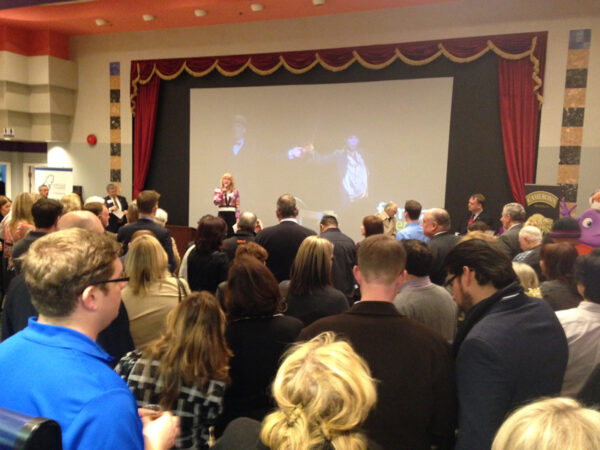 We know that when your company decides to hold an event or meeting out of the office, you want the best and most professional experience possible for your employees.
We are proud to offer advanced presentation and meeting facilities at the right price. On top of this, we offer a personal touch that we, as a locally-owned company staffed by a dedicated guest service and presentation team, can offer that the big guys can't.
We have worked with corporate clients from small startup businesses to major local real estate agents and firms, to the Canadian arms of multinational corporations.
No matter your needs – whether that is a large-scale meeting or an employee appreciation screening – talk to us about how we can help you to make your vision a reality!
POLICIES
Half the rental fee due up front to confirm booking (non-refundable)
Due to contracts with distributors, we are not generally able to book screenings during public hours on Tuesdays, Saturdays or Sundays (Please contact if there is a specific date you need and we can see if it's possible)
Price varies depending on length of screening & specific needs for event
EVENT RENTALS
We can provide the facilities for your next major meeting or employee event. We've helped companies to pull off everything from wine and cheese to a visit with Santa.
Our five cinemas range from 150-225 seats, with updated, more comfortable seating installed
Greet your group in our spacious lobby
Run your presentation through our all-digital projection systems to make a big impact on your company or clients and be heard over our theatre sound systems.
Smaller groups may wish to meet in our upstairs party room
Treat your guests to concession combos at special corporate rates, and then relax by watching a movie together at a lower admission rate. It's productivity and pleasure all in the same place (We are now licensed to sell alcohol as well)
Boost the morale of your office by holding a private party

A variety of companies turn to us around the holidays and throughout the year to hold special events and screenings for their employees, clients and families.

Watch a currently-running film, an older film or an independent film
We can even take your team on a "behind the scenes" tour of the cinema
EQUIPMENT RENTALS
We can provide you with:
the presentation facilities within one of our theatres
our outdoor screen and projection equipment rentals
our portable popcorn machine
We are especially interested in partnering with businesses that have needs for presentation, teaching or seminar space during the day.
CANCELLATION POLICY
Event cancellations, when requested a minimum of 2 weeks prior to the event, will be refunded less an administration charge of 25% of the rental fee.
Cancellations requested after the 2 week deadline will receive a CREDIT for future booking, less an administration charge of 25% of the rental fee. No refunds are provided after the 2 week deadline, only credits.
---
For more information please fill out the form below – we will be in touch shortly!